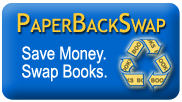 Have you heard of PaperBack Swap?  No?  Well, where've you been? 
PaperBack Swap is a truly wonderful place for people like me who love books but have way too many of them.  (Did I just admit that?)  Seriously, the income way outpaces the outgo here at the House of Hope when it comes to books, and I have to get a grip on it somehow.  Well, PaperBack Swap is one of the ways I'm trying to do that.  At PaperBack Swap, you list books you own but want to get rid of, and other PaperBack Swap members request those books.  You mail the requested books at your own cost, and you get PaperBack Swap credit for every book you mail out.  Then, when you are in need of (or just plain old want) a certain book, you request it from someone through PaperBack Swap and that person returns the favor.  Simple.  With almost 3.5 million books in the database, it's highly probable that you'll find a book or ten that you want to read.
Should you decide to sign up, please use me as your reference by clicking here.  I'll earn more credit.  We all know I need more books. 

Filed under: Bloggy Randomness, Bookish Thoughts